B&RComputer Services
noappleistoooldforus.com noappleis2old4us.com
Classic Macs iBook iMac eMac MacBook MacBook Air MacBook Pro Macintosh Centris Macintosh II Macintosh LC Macintosh Quadra Mac mini MacPro Newton Performa PowerBook PowerBook G3/G4 PowerMac PowerMac G3/G4/G5 Servers Other Pre-Macintosh Apple /// & ///+ Apple //c & //c+ Apple //eEnhanced/Platinum Apple //gs Apple I Apple ][ Apple ][+ Apple ][e Lisa/Lisa 2/Mac XL Classic Macs Macintosh 128k Macintosh 512K Macintosh 512Ke Macintosh Classic Macintosh Classic II Macintosh Color Classic Macintosh Color Classic II Macintosh ED Macintosh Plus Macintosh Plus ED Macintosh SE Macintosh SE/30 Macintosh SEFDHD iBook iBook iBook (14.1") iBook (Dual USB) iBook (Early 2003) iBook (Late 2001) iBook (Late 2002) iBook(Mid 2002) iBook/iBook SE (FireWire) iBook G4 iBook G4(Early 2004) iBook G4 (Late 2004) iBook G4 (Mid 2005) iBookSE iMac/eMac eMac eMac (2005) eMac (ATI Graphics) eMac (USB 2.0) iMac iMac (17") iMac (Early 2001) iMac(Early 2003) iMac (Early 2006) iMac (Early 2008) iMac (Early2009) iMac (Flat Panel) iMac (Late 2006) iMac (Mid 2006) iMac (Mid 2007) iMac (Rev. C) iMac (Rev. D) iMac (SlotLoading) iMac (Summer 2000) iMac (Summer 2001) iMac (USB2.0) iMac DV (Summer 2000) iMac DV+ iMac DV/SE iMac DV SE(Summer 2000) iMac G5 iMac G5 (Ambient Light Sensor) iMac G5(iSight) iMac SE (early 2001) iPod Apple TV iPhone iPhone 3G iPhone 3GS MacBook MacBook MacBook (13-inch,Aluminum, Late 2008) MacBook (Early 2008) MacBook (Early 2009) MacBook (Late 2006) MacBook (Late 2007) MacBook (Mid 2007) MacBook (Mid 2009) MacBook Air MacBook Air MacBook Air(Late 2008) MacBook Air (Mid 2009) MacBook Pro MacBookPro MacBook Pro (13-inch, Mid 2009) MacBook Pro (15-inch, Late2008) MacBook Pro (15-inch, Mid 2009) MacBook Pro (17-inch) MacBook Pro (17-inch, Early 2009) MacBook Pro (17-inch, Mid 2009) MacBook Pro (Early 2008) MacBook Pro (Late 2006) MacBook Pro(Mid 2007) Macintosh Centris Macintosh Centris 610 Macintosh Centris 650 Macintosh Centris 660av Macintosh II Macintosh II Macintosh IIci Macintosh IIcx Macintosh IIfx Macintosh IIsi Macintosh IIvi Macintosh IIvx Macintosh IIx Macintosh LC Macintosh LC Macintosh LC 475 Macintosh LC 520 Macintosh LC 550 Macintosh LC 575 MacintoshLC 580 Macintosh LC 630 Macintosh LC II Macintosh LC III Macintosh LC III+ Macintosh TV Power Macintosh 5200 LC PowerMacintosh 5260 LC Power Macintosh 5300 LC Power Macintosh 5400LC Macintosh Quadra Macintosh Quadra 605 MacintoshQuadra 610 Macintosh Quadra 630 Macintosh Quadra 650 Macintosh Quadra 660av Macintosh Quadra 700 Macintosh Quadra800 Macintosh Quadra 840av Macintosh Quadra 900 MacintoshQuadra 950 Mac mini Mac mini Mac mini (Early 2006) Mac mini (Early 2009) Mac mini (Late 2006) Mac mini (Mid 2007) Mac Pro Mac Pro Mac Pro (Early 2008) Mac Pro (Early2009) Newton eMate 300 Newton Message Pad (OMP) Newton Message Pad 100 Newton Message Pad 110 Newton MessagePad 120 Newton Message Pad 130 Newton Message Pad 2000 Newton Message Pad 2100 Performa Performa 200 Performa250 Performa 275 Performa 400 Performa 405 Performa 410 Performa 430 Performa 450 Performa 460 Performa 466 Performa 467 Performa 475 Performa 476 Performa 550 Performa 560 Performa 575 Performa 576 Performa 577 Performa 578 Performa 580CD Performa 588CD Performa600/600CD Performa 630 Performa 630CD Performa 631CD Performa 635CD Performa 636 Performa 636CD Performa 637CD Performa 638CD Performa 640CD Performa 4400 Performa 5200CD Performa 5210CD Performa 5215CD Performa 5220CD Performa5260CD Performa 5270CD Performa 5300CD Performa 5320CD Performa 5400CD Performa 5410CD Performa 5420 (black case) Performa 5420CD Performa 5430CD Performa 5440CD Performa6110CD Performa 6112CD Performa 6115CD Performa 6116CD Performa 6117CD Performa 6118CD Performa 6200 Performa6205CD Performa 6210CD Performa 6214CD Performa 6216CD Performa 6218CD Performa 6220CD Performa 6230CD Performa6260CD Performa 6290CD Performa 6300CD Performa 6310CD Performa 6320 Performa 6360 Performa 6400 PowerBook Macintosh Portable PowerBook 100 PowerBook 140 PowerBook 145 PowerBook 145B PowerBook 150 PowerBook 160 PowerBook 165 PowerBook 165c PowerBook 170 PowerBook 180 PowerBook 180c PowerBook 190 PowerBook 190cs PowerBook 520 PowerBook 520c PowerBook 540 PowerBook 540c PowerBook 550c PowerBook1400c/cs PowerBook 2400 PowerBook 3400 PowerBook 5300 PowerBook 5300c PowerBook 5300ce PowerBook 5300cs PowerBookDuo 210 PowerBook Duo 230 PowerBook Duo 250 PowerBook Duo270c PowerBook Duo 280 PowerBook Duo 280c PowerBook Duo2300c PowerBook DuoDock PowerBook DuoDock Plus/II PowerBook G3/G4 PowerBook G3 PowerBook G3 (Bronze Keyboard) PowerBook G3 (FireWire) PowerBook G3 Series PowerBook G3 Series(rev. 2) PowerBook G4 PowerBook G4 (1 GHz/867 MHz) PowerBookG4 (1.5 - 1.67 GHz) PowerBook G4 (12.1") PowerBook G4 (12.1"DVI) PowerBook G4 (15" FireWire 800) PowerBook G4 (17") PowerBook G4 (17" 1.33 GHz) PowerBook G4 (Dual Layer SD) PowerBook G4 (DVI) PowerBook G4 (Gigabit Ethernet) PowerBook G4Family PowerMac 20th Anniversary Macintosh PowerMacintosh 4400 Power Macintosh 5500 Power Macintosh 6100 Power Macintosh 6200 Power Macintosh 6300/120 Power Macintosh 6400 Power Macintosh 6500 Power Macintosh 7100 PowerMacintosh 7200 Power Macintosh 7220 Power Macintosh 7300 Power Macintosh 7500 Power Macintosh 7600 Power Macintosh 8100 Power Macintosh 8200 Power Macintosh 8500 Power Macintosh8600 Power Macintosh 9500 Power Macintosh 9600 PowerMacG3/G4/G5 Power Macintosh G3 Power Macintosh G3 (Blue &White) Power Macintosh G3 All-in-one Power Macintosh G4 (AGPGraphics) Power Macintosh G4 (Digital Audio) Power Macintosh G4(FireWire 800) Power Macintosh G4 (Gigabit Ethernet) PowerMacintosh G4 (Mirrored Drive Doors) Power Macintosh G4 (PCIGraphics) Power Macintosh G4 (Quicksilver) Power Macintosh G4(Quicksilver 2002) Power Macintosh G4 Cube Power Macintosh G5 Power Macintosh G5 (Early 2005) Power Macintosh G5 (June 2004) Power Macintosh G5 (Late 2005) Servers Macintosh Server G3 Network Server 500/700 Workgroup Server 60 Workgroup Server80 Workgroup Server 95 Workgroup Server 6150 WorkgroupServer 7250 Workgroup Server 7350 Workgroup Server 8150 Workgroup Server 8550 Workgroup Server 9150 Workgroup Server9650 Xserve Xserve (Cluster Node) Xserve (Early 2008)Xserve(Early 2009) Xserve (Late 2006) Xserve (Slot Load) / Xserve RAID Xserve G5 Xserve G5 (Cluster Node) Other 1984Commercial Graphical User Interface (GUI)

Rare,Unusual and Collectable Software and other components for yourVintage Apple, your Retro Mac and occasionally for a PC
B & R Computer Services. PO Box 7195, San Diego CA 92167. 619-225-8281 e-mail at: rrbp@aol.com Add our web page to your favorites and shop often. http://noappleistoooldforus.com

Email B&R Computer Services at rrbp@aol.com

[Macintosh 128, 512k & Mac XL, Lisa on 400k] [Macintosh Software on 800k, 1.4 disk] [Macintosh and Windows on CD's] [PC and Windows items] [FileMaker Pro 3.0] [Computer Nostalgia] [Apple II Software - Productivity , Business and Utilities] [Apple II Games] [Apple II Educational] [Hardware, computers, components]

No Apple or Macintosh is too old for us.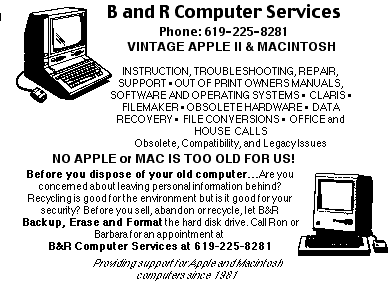 Version 12.5 updated June 2010


noappleis2old4us.com
Vintage Apple, RetroMacintosh