Rare, Unusual and Collectable Software and other components for your Vintage Apple,your Retro Mac and occasionally for a PC
---
| | | | | |
| --- | --- | --- | --- | --- |
| Title | Publisher Copyright | Minimum Requirements | Purpose Description | Price |
| A Touch of Applesoft BASIC #030-1318-B | Apple 1986 | Apple //e, //c, IIGS | Educ: Programming manual and disk | $15.00 |
| ABC Elf: Math, Spelling (3.5 or 5.25) | Public Domain | Apple II+, //e, //c, IIc+, IIGS | Educ: pre-school to 2nd grade, disks only | $9.00 |
| Aesop's Fables | Unicorn | Apple IIGS, 1 meg | Educ: 6-9 Talking stories | $12.00 |
| Amazing Window | Kitchen Sink | Apple //e, //c, IIGS 5.25 | Educ: Teacher Gradebook | $9.00 |
| Apple Top 30 Collection | Advantage - Public Domain | Apple II+, //e, //c, IIGS, 5.25 | Educ, Product., Utilities, Games 30 sides disks only | $59.00 |
| Atlas Explorer | Springboard | Apple //c+,IIGS,3.5, mouse | Educ: Geography | $9.00 |
| Atlas Explorer | Springboard | Apple //e, //c, IIGS 5.25 | Educ: Geography | $9.00 |
| B&R/Senari Education Collection | B&R/Senari Program | Apple II+, //e, //c, IIc+, IIGS | Educ: grades 3-9, 10 disks only | $59.00 |
| Beauty & the Beast/Little Mermaid | Toucan | Apple //c+,IIGS, 3.5 | Educ: Write! Illustrate! Publish! grade 1-6 | $9.00 |
| Big Book Maker: Favorite Fairy Tales | Toucan/Que | Apple //e,//c, IIGS 3 or 5" | Educ: Write! Publish!, pre-K to 3rd grade | $9.00 |
| Car Builder | Optimum Resource | Apple II+, //e, //c, IIGS, 5.25 | Game: Educ: Automobile design. ages 8 to adult | $20.00 |
| Clock Works | Public Domain MECC | Apple //e, //c, IIGS 5.25 | Educ: Tell time pre K - 1st | $9.00 |
| Conquering Fractions (add, subtract) | MECC | Apple II+, //e, //c, IIGS, 5.25 | Educ: Math, grade 4-8 | $9.00 |
| Conquering Fractions (multiply, divide) | MECC | Apple II+, //e, //c, IIGS, 5.25 | Educ: Math, grade 4-8 | $9.00 |
| Decimals, Fractions, & Percents | B&R/Senari Program | Apple II+, //e, //c, IIc+, IIGS | Educ: grade 5-9, 3.5 or 5.25 disk only | $7.00 |
| Early Games for Young Children | Springboard | Apple II+, //e, //c, IIGS, 5.25 | Educ: 9 educ game activities, ages 2 -6 | $19.00 |
| Early Learning: Animal Alphabet & Other Things | Random | Apple II+, //e, //c, IIGS, 5.25 | Educ: Pre School, disk only | $9.00 |
| Early Learning: Inside, Outside, Shapes | Random | Apple II+, //e, //c, IIGS, 5.25 | Educ: Pre School, disks only | $9.00 |
| Easy as A-B-C | Springboard | Apple II+, //e, //c, IIGS, 5.25 | Educ: 5 activities, ages 3-6. Easy as ABC | $15.00 |
| Geometry | B&R/Senari Program | Apple II+, //e, //c, IIc+, IIGS | Educ: grade 5-9, 3.5 or 5.25 disk only | $7.00 |
| Grandma's House | Springboard | Apple II+, //e, //c, IIGS, 5.25 | Educ: Play, ages 4-8 | $9.00 |
| Homework Helper: Writing | Spinnaker | Apple II+, //e, //c, IIGS, 5.25 | Educ: Word processing, organizes, grades 7-12 | $15.00 |
| Hypercard GS - disks only | Apple | Apple IIGS, 3.5" | Educ: Graphic information management | $25.00 |
| Instant Zoo | Apple | Apple II+, //e, //c, IIGS 5.25 | Educ: Word games K-2nd, disk only | $9.00 |
| Jumbled Jobs: Graphic Writing | Toucan | Apple //e, //c, IIGS 5.25 | Educ: Reading, Writing, careers | $9.00 |
| Katie's Farm | Lawrence Productions | Apple IIGS, 1 meg | Educ: Ages 2 to 6 | $9.00 |
| Kids on Keys | Spinnaker | Apple II+, //e, //c, IIGS, 5.25 | Educ: Typing instr, Computer ages 4-8 | $18.00 |
| KidWriter | Spinnaker | Apple II+, //e, Not //c | Educ: Writing skills, ages 6-10 | $15.00 |
| Kinderama | Unicorn | Apple IIGS, 1.25 RAM | Educ: 4-6, Robot Learning, talks | $9.00 |
| Learn the Alphabet $24.95 | Spinnaker | Apple II+, //e, //c, IIGS, 5.25 | Educ: Learn the Alphabet, ages 4-8 | $12.00 |
| Learn to Add | Spinnaker | Apple II+, //e, //c, IIGS, 5.25 | Educ: Learn to Add ages 3-7 | $9.00 |
| Learn to Spell | Spinnaker | Apple II+, //e, //c, IIGS, 5.25 | Educ: Learn to Spell ages 7-12 | $9.00 |
| Math - Word Problems | B&R/Senari Program 1989 | Apple II+, //e, //c, IIc+, IIGS | Education; grade 5-9, 3.5 or 5.25 disk only | $7.00 |
| Math Blaster | Davidson | Apple II+, //e, //c, IIGS, 5.25 | Educ: add, subtr, mult, div, fractions | $15.00 |
| Math Drills | B&R/Senari Program | Apple II+, //e, //c, IIc+, IIGS | Educ: grade 2-8, 3.5 or 5.25 disk only | $7.00 |
| Mavis Beacon Teaches Typing! | Software Toolworks ('87) | Apple II+, //e, //c 5.25 | Educ: Typing | $12.00 |
| McGee - Katie's Farm | Lawrence Productions | Apple IIGS, 3.5" | Educ: Early Ed, Ages 2-6 | $10.00 |
| Melody Studio | Pelican/Queue | Apple //e, //c, IIGS 5.25 | Educ: Music | $19.00 |
| MicroZine #30 | Scholastic | Apple II+, //e, //c, IIGS, 5.25 | Educ: Magazine on Disk | $9.00 |
| Monstruos y Fantasia | Toucan | Apple //e, //c, IIGS 5.25 | Educ: Write! Illustrate! Publish! in Spanish | $9.00 |
| Multiple Meanings | B&R/Senari Program 1989 | Apple II+, //e, //c, IIc+, IIGS | Educ: grade 5-9, nouns,verbs, modifiers, 3.5 or 5.25 disk only | $7.00 |
| Multiply/Divide | B&R/Senari Program 1987 | Apple II+, //e, //c, IIc+, IIGS | Educ: grade 5-9, 3.5 or 5.25 disk only | $7.00 |
| New Print Shop graphic disks (5) | B&R Computer Services | Apple //e,//c, IIGS | Educ: Graphics for New Print Shop, disks only | $19.00 |
| New Print Shop-Business, School & Party graphics | Public Domain | Apple //e, //c, IIGS, 3.5 | Educ: Graphics, req. New Print Shop | $9.00 |
| New Print Shop-School Edition | Broderbund | Apple //e, //c, IIGS. 5.25" ProDOS floppies | Educ: Signs, Banners, Cards, Calendars, teacher material. New condition | $39.00 |
| Newsroom & clip art vols 1-3 | Springboard | Apple II+, //e, //c, IIGS, 5.25 | Educ: Publishing, Journalism | $59.00 |
| Nouns | B&R/Senari Program 1989 | Apple II+, //e, //c, IIc+, IIGS | Educ: grade 5-9, 3.5 or 5.25 disk only | $7.00 |
| Number Round Up | B&R/Senari Program | Apple II+, //e, //c, IIc+, IIGS | Educ: grade 5-9, math estimating, 3 or 5" disk only | $7.00 |
| Physics vol. 2 | Arrakis Advantage | Apple II+, //e, //c, IIGS, 5.25 | Educ: physics, light, waves, particle theory | $9.00 |
| | | | | |
| --- | --- | --- | --- | --- |
| Piece of Cake Math | Spinnaker | Apple II+, //e, //c, IIGS, 5.25 | Educ: Equations, Word problems ages 9-12 | $9.00 |
| Playroom-School Edition | Broderbund | Apple //e, //c, IIGS 5.25 | Education: Preschool to Grade 3 | $19.00 |
| Probe (BASIC Programming) | Scott, Foresman | Apple II+, //e, //c, IIGS, 5.25 | Educ: BASIC Programming, grade 1-3 | $9.00 |
| Probe (BASIC Programming) | Scott, Foresman | Apple II+, //e, //c, IIGS, 5.25 | Educ: BASIC Programming, grade 4-6 | $9.00 |
| Punctuation | B&R/Senari Program | Apple II+, //e, //c, IIGS, 5.25 | Education; grade 3-7 , disk only | $7.00 |
| Quarter Mile Math Game | Barnum Software | Apple II+, //e, //c, IIc+, IIGS | Educ: grade K-9, Adult: whole numbers, integers, equations | $9.00 |
| Sentences | B&R/Senari Program | Apple II+, //e, //c, IIc+, IIGS | Educ: grade 5-9, 3.5 or 5.25 disk only | $7.00 |
| Snooper Troops 1: Disappearing Dolphin | Spinnaker | Apple II+, //e, //c, IIGS, 5.25 | Educ: Adventure ages 10-adult | $9.00 |
| Snooper Troops 2: Granite Point Ghost | Spinnaker | Apple II+, //e, //c, IIGS, 5.25 | Educ: Adventure ages 10-adult | $9.00 |
| Speed Reader II - 4 data disks | Davidson | Apple II+, //e, IIGS, 5.25 or 3.5 | Educ: Reading, disks only req. Speed Reading | $9.00 |
| Stickybear ABC | Optimum Resource | Apple II+, //e, //c, IIGS, 5.25 | Educ: early learning, ages 3-6 | $15.00 |
| Stickybear BASIC | Optimum Resource | Apple II+, //e, //c, IIGS, 5.25 | Educ: Programming BASIC instruction | $15.00 |
| Stickybear Bop | Optimum Resource | Apple II+, //e, //c, IIGS, 5.25 | Educ: for pre-schoolers | $9.00 |
| Stickybear Music & Library 1 | Optimum Resource | Apple II+, //e, //c, IIGS, 5.25 | Educ: Music training | $19.00 |
| Stickybear Printer | Weekly Reader | Apple II+, //e, //c, IIGS, 5.25 | Educ: Signs, cards, banners | $9.00 |
| Stickybear Printer Picture Library 1 | Weekly Reader | Stickybear Printer, Apple II | Educ: Add'l designs for Stickybear Printer | $9.00 |
| Stickybear Spellgrabber, disk only | Weekly Reader | Apple //e,//c, IIGS 3.5 | Educ: Spelling, age 6-9 | $9.00 |
| Stickybear Typing | Optimum Resource | Apple II+, //e, //c, IIGS, 5.25 | Educ: Typing skills for everyone | $15.00 |
| Stickybear Word Problems | Weekly Reader | Apple II+, //e, //c, IIGS, 5.25 | Educ: Math problems ages 7 & up | $9.00 |
| StickyBear: Olympics | Optimum Resource | Apple II+, //e, //c, IIGS, 5.25 | Educ: Reading comprehension. ages 7-10 | $15.00 |
| Thinking Skills | B&R/Senari Program | Apple II+, //e, //c, IIc+, IIGS | Educ: grade 5-9, cause&effect, logic, 3.5 or 5.25 disk only | $7.00 |
| Treehouse-School Edition | Broderbund | Apple //e, //c, IIGS 5.25 | Educ: K-Grade 4 | $49.00 |
| Turtle's Sourcebook, The | Reston 1983 | Apple and other computers | Educ: Logo. Illustrated book 226 pages | $20.00 |
| Typing Made Easy | Spinnaker | Apple II+, //e, //c, IIGS, 5.25 | Educ: Touch Typing | $15.00 |
| U. S. Cities | Optimum Resource | Apple II+, //e, //c, IIGS, 5.25 | Educ: Math word problems. grades 2-5 | $15.00 |
| U. S. Presidents | Optimum Resource | Apple II+, //e, //c, IIGS, 5.25 | Educ: Reading comprehension. grades 2-5 | $15.00 |
| Using Money & Making Change | O. Cherry | Apple II+, //e, //c, IIGS, 5.25 | Educ: Money handling | $9.00 |
| Verbs | B&R/Senari Program | Apple II+, //e, //c, IIc+, IIGS | Educ: grade 3-7, 3.5 or 5.25 disk only | $7.00 |
| Weekly Rdr Fraction & Decimal Word Problems | Optimum Resource | Apple II+, //e, //c, IIGS, 5.25 | Educ: Math. ages 8 and up | $9.00 |
| Weekly Reader Math Word Problems | Optimum Resource | Apple II+, //e, //c, IIGS, 5.25 | Educ: Math. ages 8 and up | $9.00 |
| Weekly Reader Sentence Fun | Optimum Resource | Apple II+, //e, //c, IIGS, 5.25 | Educ: Word Skills, ages 8+ | $9.00 |
| Where in America's Past is Carmen SanDiego | Broderbund | Apple //e, //c, IIGS 5.25 | Educ: History (School Edition) | $29.00 |
| Where in the USA is Carmen Sandiego | Broderbund | Apple II+, //e, //c, 5.25 | Educ: Game: Geography, no box | $7.00 |
| Where in the World is Carmen SanDiego | Broderbund | Apple II+, //e, //c, 5.25 | Educ: Game: Geographical, no box | $35.00 |
---

Rare,Unusual and Collectable Software and other components for your Vintage Apple, your Retro Mac and occasionally for a PC
Software is used, out of print or one of a kind and is subject to limited availability. Most titles are sold "as is" unless otherwise specified. No refunds or exchanges on software, books, manuals or documentation. Minimum order: $50.00 before shipping, $100.00 for international orders.

Minimum shipping: $10.00 per order to continental US. Please contact us for exact shipping on large or international orders. Overseas orders will only be sent insured with customs form listing merchandise and price.

Orders are accepted on the phone with Visa or Mastercard. You may also send a money order or a check. Checks must clear before we ship. Call 619-225-8281 or email to order. Sales tax will be charged to items sent in California.

B & R Computer Services. PO Box 7195, San Diego CA 92167 619-225-8281 e-mail at: rrbp@aol.com

[Macintosh 128, 512k & Mac XL, Lisa on 400k] [Macintosh Software on 800k, 1.4 disk] [Macintosh and Windows on CD's] [PC andWindows items] [FileMaker Pro 3.0] [Computer Nostalgia] [Apple II Software - Productivity , Business and Utilities] [Apple II Games] [Apple II Educational] [Hardware, computers, components]


No Apple II or Macintosh computer is too old for us.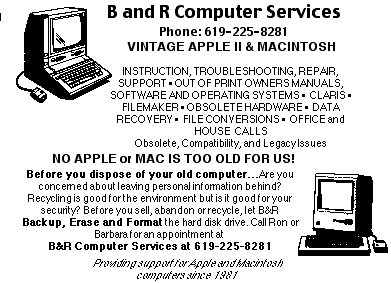 Updated: January 2014

Vintage Apple, Retro Macintosh