Claris FileMaker Pro 3.0 for Windows/Macintosh
$79.00


---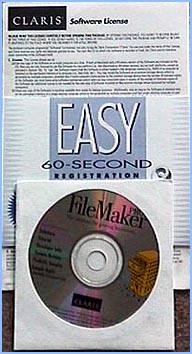 ---
Claris FileMaker Pro 3.0 is a comprehensive data management program for organizing and using information. View an onscreen interactive tutorial that teaches you how to manage your information in FileMaker Pro.
Make use of over 40 database templates that provide solutions for business, home, and education. The Template Information file in the Templates folder provides a database of solution names, descriptions,and tips on how to use them.
Includes a database of sample buttons that can be copied and used for your own files. Brand-new software, CD, license agreement and registration card.
The FileMaker Pro 3.0 CD contains the following items:
* The FileMaker Pro application and related files.
* Bonus database files to help you get started with FileMakerPro.
New features in FileMaker Pro 3.0:
* Relational database capability.
* Enhanced OLE support.
* Improved networking.
* Enhanced calculations.
* ScriptMaker enhancements.
* Browse and Find mode improvements.
* Editing enhancements.
* Field definition improvements.
* More flexibility with value lists.
* New options in Layout mode.
* More powerful file handling.
* Automatic database creation.
* Expanded import and export.
* New ways to limit user access.
Also contains the following databases to help you get started with FileMaker Pro right away:
TechInfo Sampler: designed to help you find answers to common technical questions you may encounter when using FileMaker Pro3.0.
Claris Solutions Guide: a set of easy to use FileMaker Pro databases designed to make it easy for you to locate a wide variety of software applications and support services available for FileMakerPro and the Claris family of software products.
Claris FileMaker Pro 3.0 is FileMaker Pro 4.0 and 4.1 Compatible. This is a perfect solution for adding new users as long as you are not using 4.x "new" features such as rotated fields, web publishing or ODBC importing.
Without needing to convert files, FileMaker Pro 3.0 can open filescreated with FileMaker Pro 4.0 or FileMaker Pro 4.1. FileMaker Pro4.0 or 4.1 can open files created with FileMaker Pro 3.0. However,new features of 4.0 or 4.1 such as rotated fields, web publishing orODBC importing are not supported. Rotated fields will appear asordinary fields in 3.0. Some Epson inkjet printers are incompatiblewith 3.0. For more information see page 1-7 in the FileMaker Pro 4.1or page 1-21 in the Filemaker Pro 4.0 "Installation and New Features Guide."
* This item is New. $79.00

---

Rare,Unusual and Collectable Software and other components for your Vintage Apple, your Retro Mac and occasionally for a PC
Software is used, out of print or one of a kind and is subject to limited availability. 30 day warranty on some software. Most titles are sold as is. No refunds or exchanges on software, books, manuals or documentation. Minimum order: $50.00 before shipping, $100.00 for international orders.




Minimum shipping: $10.00 per order for UPS ground delivery to continental US. Please contact us for exact shipping on large or international orders. Overseas orders will only be sent insured with customs form listing merchandise and price.




Orders are accepted on the phone with Visa or Mastercard. You may also send a money order or a check. Checks must clear before we ship. Call 619-225-8281 or email to order. California residents add 8.75 % sales tax.


B & R Computer Services. PO Box 7195, San Diego CA 92167 619-225-8281 e-mail at: rrbp@aol.com Add our web page to your favorites and shop often. http://noappleistoooldforus.com


[Macintosh 128, 512k & Mac XL, Lisa on 400k] [Macintosh Software on 800k, 1.4 disk] [Macintosh and Windows on CD's] [PC andWindows items] [FileMaker Pro 3.0] [Computer Nostalgia] [Apple II Software - Productivity , Business and Utilities] [Apple II Games] [Apple II Educational] [Hardware, computers, components]


No Apple II or Macintosh computer is too old for us.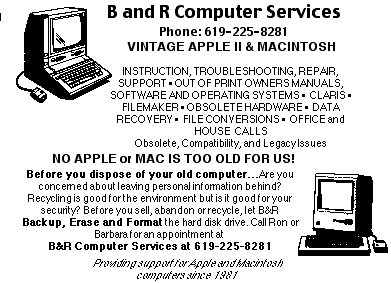 Updated: March 2012

Vintage Apple, Retro Macintosh