Macintosh Game Software on diskettes and CDs

Rare, Unusual and Collectable Software for your Vintage Apple, your Retro Mac and occasionally for a PC
---
| | | | | |
| --- | --- | --- | --- | --- |
| Title | Publisher | Price | Minimum Req | Purpose |
| 3-D Ultra Pinball The Lost Continent | Sierra ('97) | $9.00 | Mac, CD | Game: Pinball |
| 3-D Ultra Pinball. Trophy BASS | Sierra On-Line 1998 | $5.00 | Mac CD | Game: Pinball |
| 7th Guest | Virgin Games '94 | $25.00 | Mac 68040 or faster, CD ROM | Game: Box, CD & docs |
| A-10 Attack | Parsoft International 1995 | $5.00 | Mac CD | Game: War game with demos |
| AfterLife | LucasArts | $9.00 | Mac 68040 or PPC, CD | Game: "Last word in Sims" |
| Air Combat, Chuck Yeager's | Electronic Arts '93 | $7.00 | Mac, sys 7.x, CD, color | Game: Flight CD only |
| Alistair's Aliens | Simon&Schuster (94) | $12.00 | Mac, CD, 256 color | Game, Educ: children's |
| Angel Devoid: Face of the Enemy | Electric Dreams | $5.00 | Mac PPC or 68040, CD | Game: age 17+, violence |
| Armor Alley | Three-Sixty Pacific 1990 | $18.00 | Mac Plus and above, 16 color or b&w | Game: Tanks & Hellicopters, box & docs |
| Bomber | Deadly Games Ltd. 1990 | $9.00 | Mac 800k | Game: WWII aviation simulator, manual no box |
| Bridge Baron | Great Games | $49.95 | Mac, HD | Game: Learn & Play Bridge, diskette version |
| Bridge Baron Demo CD v 12 | Great Games | $7.00 | Win, Mac, CD | Bridge Game Practice Demo |
| Bridge Baron v 15 | Great Games | $59.95 | Win, Mac, CD | Bridge Game |
| Bridge Baron v 17 | Great Games (2006) | $64.95 | Win, Mac 8.6 to OS X, CD | Bridge Game |
| Bridge Baron v 7.6 | Great Games | $39.00 | Mac, 1.4, HD | Bridge Game |
| Bridge Baron v 7.6 | Great Games | $39.00 | Mac, CD | Bridge Game |
| Bridge Baron v 9 | Great Games | $39.00 | Mac, CD | Bridge Game |
| Card and Board Games | Public Domain & Shareware | $29.00 | Mac, CD, Mac OS 6 to OS 9 | Game: Dozens of card and board games. Not for OS X |
| Card Game Collection | Public Domain & Shareware | $29.00 | Mac, HD, CD | Game: Solitaire, Poker, 21, etc. |
| Card Game Collection, disks only | Public domain, shareware | $35.00 | Mac, HD | Game: Solitaire, Poker, 21, etc. |
| Casino | BeachWare (1995) | $10.00 | Mac classc CD, Win | Vegas Game collection |
| Castle of Dr. Brain | Sierra | $15.00 | Mac | Game: 4 disks |
| Ceasar's Palace | Virgin Games ('95) | $18.00 | Mac, CD | Mac Play legacy game, CD only |
| Chuck Yeager's Air Combat | Electronic Arts 1993 | $7.00 | Mac, CD | Game |
| Classic Arcade | Beachware | $25.00 | Mac or Win, CD, color | Arcade games (10) |
| Comanche-Mac | NovaLogic 12995 | $7.00 | Mac CD | Game: War, Aviation |
| Command H.Q. | MicroProse Microplay 1992 | $29.00 | Mac Plus and above, hard disk | Game: Strategic Global Conquest (1991 Wargame of the year) |
| Cross Words: Take a Break | Dell/Dynamix (Sierra) | $9.00 | Mac 1.4 disk; sys 7 and above | Crossword games, vol 1 and 2 |
| Crossword Wizard | Cogix (1994) | $9.00 | Mac 1.4 disk;sys v. 7 and above | Crossword game |
| Crossword Wizard | Cogix '94 | $18.00 | Mac sys 7 | Educ: Game: Word puzzles |
| Cult 3D | Cycore '99 | $3.00 | Mac, CD | Game, cd only |
| Darkseed | Cyberdreams 1993 | $29.00 | Mac, CD | Game: CD, manual; boxed; art by H.R. Giger |
| Descent | MacPlay | $5.00 | Mac, Color, CD | Game: Adventure, cd only |
| Dino Park Tycoon | MECC (1993) | $10.00 | Mac, 1.4 disk, HD | Game, Ages 8- Adult |
| Dust: A Tale of the Wired West | Cyberflix | $15.00 | Mac Win, CD | Game: c. 1995 |
| Eagle Eye Mysteries in London | EA Kids/Electronic Arts 1994 | $5.00 | Mac, CD | Educational game, cd only |
| Early Games for Young Children | Springboard | $19.00 | Mac, ext. drive or HD | Educ: 9 educ game activities, ages 2 -6 |
| F/A-18 Hornet Classic | Graphic Simulations 1995 | $9.00 | Mac, CD | Game: Air combat, cd only |
| Ferrari Grand Prix v.2 | Bullseye Software 1992 | $15.00 | Mac 800k, color | Game: Car racing, box & docs |
| Flight Commander 2 | Avalon Hill 1994 | $18.00 | Mac, 1.4 floppy, HD, Sys 7 or higher | Game: Flight battle simulator, box & docs |
| Full Metal Mac | SoftWars 1992 | $9.00 | Mac 800k, HD | Game: War - Infantry combat, docs no box |
| Full Throttle | LucasArts | $5.00 | Mac 68040 or PPC, CD | Game: A Heavy Metal Adventure (some violence) |
| Game CD over 500 different | Shareware ('95) | $29.00 | Mac, CD, HD | Games: Large variety- cards, adventure, etc |
| Games (30 on 8 disks) PD/shareware | Public Domain & Shareware | $35.00 | Mac | Game Assortment, disks only |
| Games (35 on 3 non-booting disks) | Public Domain & Shareware | $29.00 | Mac, HD | Game Assortment, disks only |
| Games II (16 on non-booting disks) | Public Domain & Shareware | $29.00 | Mac, HD, Color | Game Assortment, disks only, req. color |
| Gaming MegaPac | Macworld '98 | $10.00 | Mac, CD | Game collection, cd only |
| Gold of the Americas: Conquest of the New World | Strategic Studies Group 1990 | $9.00 | Mac Plus and above, HD | Game: historical discovery, docs-no box |
| GOLF Jack NIcklaus 4 | MacSoft ('97) | $10.00 | Mac, CD | Game: Golf |
| | | | | |
| --- | --- | --- | --- | --- |
| Gravis Blackhawk (joystick) | Gravis | $49.00 | Mac, ADB, games | Mac ADB game controller |
| Hell Cab | Time Warner, Pepe Moreno 1993 | $15.00 | Mac, CD | Game: Urban and historical adventure, docs & CD cover |
| Incredible Toon Machine | Sierra On-Line '94 | $7.00 | Mac, disk, sys v.6.0.5 or higher | Cartoon construction game |
| Ishido | MacPlay ('94) | $18.00 | Mac, CD | Mac Play legacy game, CD only |
| Journeyman Project | Presto Studios 1992 | $39.00 | Mac, CD | Game: Sci Fi, early CD |
| Kings Quest V, Red Baron, Rise of the Dragon; all 3 games sold together | Dynamix, Sierra | $6.00 | Mac, 1.4 floppy, HD | Game: Manuals & disks, no boxes |
| Labyrinth of Time | Electronic Arts/Terra Nova Development 1993 | $6.00 | Mac, sys 7.x, CD, color | Game: adventure, CD only |
| Legends of the Lost Realm | Avalon Hill | $19.00 | Mac | Game: Fantasy Role-Playing |
| Legions: Conquest & Diplomacy | Mindscape | $25.00 | Mac, Color, 7.1 | Game: Ancient world conquests |
| Links LS Demo CD | Access '97 | $2.00 | Mac, CD | Golf game demo, cd only |
| Links Pro CD w/ Library vol. 1 | Access Software ('95-96) | $20.00 | Mac CD; sys 7.0 and above | Golf Game |
| Lode Runner: The Legend Returns | Sierra On-Line '94 | $15.00 | Mac CD | Game |
| Master of Orion II - Battle At Antares | MacSoft ('97) | $10.00 | Mac, CD | Game: CD & Book |
| Monopoly | Hasbro ('96) | $10.00 | Mac, CD | Classic Game |
| MouseStick II (joystick) | Advanced Gravis (1994) | $39.00 | Mac, ADB, SE and greater | Mac ADB game controller |
| Myst | Broderbund '94 | $12.00 | Mac, Color, CD | Game: Adventure, cd only |
| Myst, manual & strategy guide | Broderbund 1993 | $19.00 | Mac, CD, color | Game: Adventure, fantasy |
| Newton Program Collection | Public Domain/Share | $15.00 | Mac, Newton | Programs, games, utilities, disks only |
| Oregon Trail | MECC | $19.00 | Mac Plus & above, HD | Game: Educ: Geography & History |
| Oregon Trail II | MECC 1994 | $19.00 | Mac/Win CD | History Game; ages 10 - adult, cd only |
| Panzer Battles | Strategic Studies Group 1990 | $19.00 | Mac Plus and above | Game: Tank battle, Russian front. box & docs |
| PGA Tour Golf II | Polygames/Electronic Arts 1994 | $8.00 | Mac, CD | Game: golf cd only |
| Pie Fillings - #9 Blue | WAP | $39.95 | Mac HD, CD | Updates, utilities, drivers, games, CD only |
| Pie Fillings - Orange | WAP | $39.95 | Mac HD, CD | Updates, utilities, drivers, games, CD only |
| Pinball Crystal Caliburn | StarPlay ('94) | $10.00 | Mac, CD | Game: Pinball |
| Pinball: Crystal Caliburn | StarPlay '93 | $18.00 | Mac, 6.07 or 7, 256 color, HD | Game: Pinball |
| Populous II | Electronic Arts, Bullfrog Productions 1994 | $8.00 | Mac, CD | Game: Civilization simulation |
| Power Poker | Electronic Arts ('94) | $18.00 | Mac, CD | Poker game, CD only |
| Powermonger | Electronic Arts/ Bullfrog 1994 | $7.00 | Mac, CD | Game: Adventure, dungeon simulation, cd only |
| Prince of Persia | Broderbund ('92) | $15.00 | Mac, HD, sys 6.0 & above | Game: save the princess |
| Rise of the Dragon | Sierra (90) | $15.00 | Mac, 256 color, 1.4, HD | Game: Blade Hunter Mystery |
| Scrabble | MacPlay (90) | $19.00 | Mac, 1.4, HD | Game: Crossword game |
| Sherlock Holmes Consulting Detective | Software Toolworks | $19.00 | Mac, CD | Adventure Game |
| SimCity with SimCity Graphics Disk #1 | Maxis 1990 | $25.00 | Mac 512E and above | Game: Urban design simulation, not in color |
| Solitaire Game Pack | MacSoft | $15.00 | Mac, 1.4, HD | Game: 5 solitaire card games, disk only |
| Space Shuttle | Software Toolworks 1993 | $15.00 | Mac, CD | Game: multimedia, 50 missions, CD (sealed); boxed |
| Spaceship Warlock | Reactor | $10.00 | Mac/PC CD | Game: Space game - interactive movie, box & cd |
| Star Wars: Rebel Assault | LucasArts ('93) | $15.00 | Mac, CD | Game: Star Wars |
| Star Wars: X Wing | LucasArts ('92) | $19.00 | Mac, CD | Game: Star Wars |
| Strategy Challenges Collection Around the World: Nine Men's Morris, Mancala, Go-Moku | Edmark ('96) | $5.00 | Mac, Win, CD | Game, Educ: Problem solving strategies |
| Super Munchers | MECC (1991) | $10.00 | Mac disk; sys 6.0.2 or above | Trivia Game, Ages 8 - adult; shrink wrapped |
| Syndicate | Electronic Arts, Bullfrog Productions 1994 | $9.00 | Mac, CD | Game: Crime simulation |
| Theme Park | Bullfrog Productions, Electronic Arts | $7.00 | Mac, CD | Game: theme park simulation, cd only |
| Timon & Pumbaa's Jungle Games | Disney ('95) | $19.00 | Mac, CD, color | GameBreak! |
| Treasure Quest: The Challenge, Soundtrack | Sirius ('95,96) | $15.00 | Mac, CD | Game: Adventure, Music, 2 CDs |
| Trivial Pursuit | Virgin, Parker Bros. ('94) | $18.00 | Mac, CD | Interactive multimedia game, CD only |
| Unscramble | Pointware | $18.00 | Mac, HD | Educ: word game 3-6, disk & box |
| Updater - Driver Collection CD | WAP | $39.95 | Mac HD, CD | Updates, utilities, drivers, games, CD only |
| Updater CD - Pie Fillings - Red - June 2000 | WAP | $39.95 | Mac HD, CD | Updates, utilities, drivers, games, CD only |
| Updater CD - Pie Fillings - Yellow | WAP | $39.95 | Mac HD, CD | Updates, utilities, drivers, games, CD only |
| | | | | |
| --- | --- | --- | --- | --- |
| Vegas Games | New World ('94) | $15.00 | Mac, HD, 1.4 floppy | Game: gambling |
| Video Casino | Nexstar | $18.00 | Mac, CD | Game: Poker, Keno, Blackjack, slots, craps |
| Virtual Pool | Celeris '97 | $5.00 | Mac, CD only | Game, CD only |
| VR Soccer '96 | VR Sports | $3.50 | Mac, CD only | Game, CD only |
| War Game Collection, disks only | Public Domain/Shareware | $29.00 | Mac, Color, 1.4 drive | Game: Strategy (15 different games) |
| WarCraft II Tides of Darkness | Blizzard ('96) | $19.00 | Mac, Win, CD | Game: Fantasy Strategy |
| Wheel of Fortune | GameTek | $19.00 | Mac, CD | Game: TV game show |
| Wheel of Fortune | GameTek | $19.00 | Mac, HD | Game: TV game show |
| Where in the U.S.A is Carmen SanDiego | Broderbund | $5.00 | Mac, CD only | Game, CD only |
| Word City - Grand Prix Edition | Sanctuary Woods ('95) | $12.00 | Mac, Color, 1.4 floppy | Game, Educ: language skills |
| WordsWhere? | B&R Computer Services | $12.50 | Mac Plus & above | Educ: Game, Generates hidden word puzzles |
| Yukon Trail | MECC 1994 | $7.00 | Mac/Win, CD | History game, ages 10 - 16, cd only |
---

Rare,Unusual and Collectable Software and other components for your Vintage Apple, your Retro Mac and occasionally for a PC
Software is used, out of print or one of a kind and is subject to limited availability. 30 day warranty on some software. Most titles are sold as is. No refunds or exchanges on software, books, manuals or documentation. Minimum order: $50.00 before shipping, $100.00 for international orders.




Minimum shipping: $10.00 per order for UPS ground delivery to continental US. Please contact us for exact shipping on large or international orders. Overseas orders will only be sent insured with customs form listing merchandise and price.




Orders are accepted on the phone with Visa or Mastercard. You may also send a money order or a check. Checks must clear before we ship. Call 619-225-8281 or email to order. California residents add 7.75 % sales tax.


B & R Computer Services. PO Box 7195, San Diego CA 92167 619-225-8281 e-mail at: rrbp@aol.com Add our web page to your favorites and shop often. http://noappleistoooldforus.com


[Macintosh 128, 512k & Mac XL, Lisa on 400k] [Macintosh Software on 800k, 1.4 disk] [Macintosh and Windows on CD's] [PC andWindows items] [FileMaker Pro 3.0] [Computer Nostalgia] [Apple II Software - Productivity , Business and Utilities] [Apple II Games] [Apple II Educational] [Hardware, computers, components]


No Apple II or Macintosh computer is too old for us.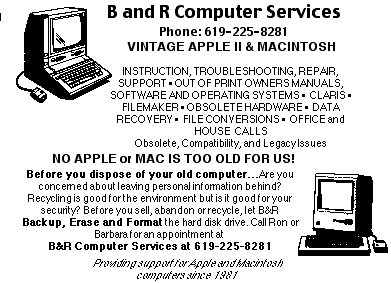 Updated March 2012
Vintage Apple, Retro Macintosh