Claris FileMaker Pro 3.0 for older Windows and Macintosh computers


---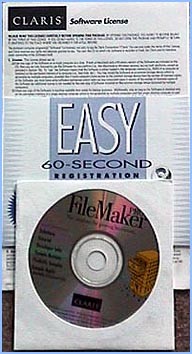 ---
Claris FileMaker Pro 3.0 is a comprehensive data management program for organizing and using information. View an onscreen interactive tutorial that teaches you how to manage your information in FileMaker Pro.
Make use of over 40 database templates that provide solutions for business, home, and education. The Template Information file in the Templates folder provides a database of solution names, descriptions,and tips on how to use them.
Includes a database of sample buttons that can be copied and used for your own files. Brand-new software, CD, license agreement and registration card.
The FileMaker Pro 3.0 CD contains the following items:
* The FileMaker Pro application and related files.
* Bonus database files to help you get started with FileMakerPro.
New features in FileMaker Pro 3.0:
* Relational database capability.
* Enhanced OLE support.
* Improved networking.
* Enhanced calculations.
* ScriptMaker enhancements.
* Browse and Find mode improvements.
* Editing enhancements.
* Field definition improvements.
* More flexibility with value lists.
* New options in Layout mode.
* More powerful file handling.
* Automatic database creation.
* Expanded import and export.
* New ways to limit user access.
Also contains the following databases to help you get started with FileMaker Pro right away:
TechInfo Sampler: designed to help you find answers to common technical questions you may encounter when using FileMaker Pro3.0.
---

Rare,Unusual and Collectable Software and other components for your Vintage Apple, your Retro Mac and occasionally for a PC
Software is used, out of print or one of a kind and is subject to prior sale. Items are sold "as is" unless otherwise specified. No refunds or exchanges. Minimum order: $50.00 before shipping.

Minimum shipping: $10.00 per order to continental US. Please contact us for exact shipping on large orders.

Orders are accepted on the phone with Visa or Mastercard. You may also send a money order or a check. Checks must clear before we ship. Call 619-225-8281 to order. Sales tax will be charged to items sent in California.

B & R Computer Services. PO Box 7195, San Diego CA 92167 Landline phone 619-225-8281. No texting. e-mail at: rrbp@aol.com Add our web page to your favorites and shop often. http://noappleistoooldforus.com


[Macintosh 128, 512k & Mac XL, Lisa on 400k] [Macintosh Software on 800k, 1.4 disk] [Macintosh and Windows on CD's] [PC andWindows items] [FileMaker Pro 3.0] [Computer Nostalgia] [Apple II Software - Productivity , Business and Utilities] [Apple II Games] [Apple II Educational] [Hardware, computers, components]

Updated: June 2023
Vintage Apple, Retro Macintosh